There are no more items in your cart
Shipping

Free

Total

€0.00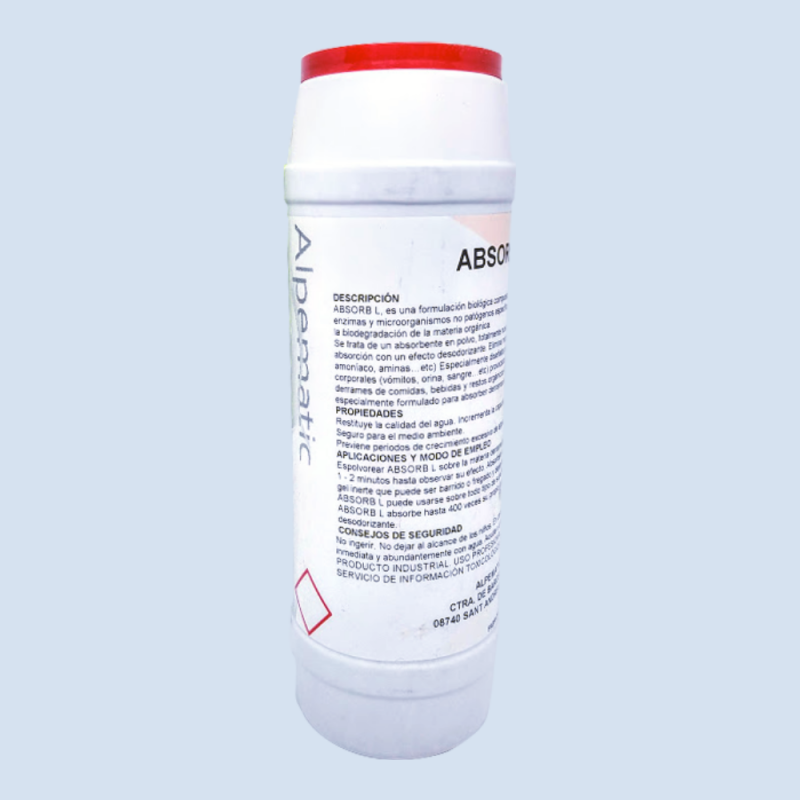  
Absorb-L 500g
Absorb-L 500 g is an absorbent powder, combining great absorption power with a deodorizing effect. It converts a liquid or semi-liquid discharge into an aspirable solid.
Ideal for means of transport. Ideal for managing physiological discharges.
Specifically developed for all those areas where due to an accident or dizziness we have to proceed to a hygienic and deodorized cleaning.
Example: A waiter pours a plate on the floor, we will sprinkle the product, let it act and simply vacuum it. A client in a means of transport becomes dizzy and vomits. To treat the residue, we will sprinkle it, let it act and simply vacuum up the spill.
Absorb-L 500 g is a totally new absorbent powder that combines great absorption power with a deodorizing effect. Eliminates bad odors through a biological formulation made up of mineral and organic supports, enzymes and non-pathogenic microorganisms specifically selected to undertake the biodegradation of organic matter.
Specifically developed for all those areas that require hygiene and deodorization such as hospitals, nurseries, schools, hotels, restaurants, cars, ambulances, nursing homes.
FEATURES
350cc container
Physical state white powder
Neutral pH
White color
Pleasant scented scent
MODE OF USE
It facilitates the cleaning and handling of unpleasant remains to be collected by traditional methods.
Sprinkle ABSORB-L on spilled material and contaminated areas and wait 1-2 minutes until its effect is observed.
It will absorb the spill and trap odors in an inert gel that can be swept up or mopped up and placed in a waste container.
ABSORB-L can be used on all types of surfaces, including upholstery.
ABSORB-L absorbs up to 400 times its own volume and provides great deodorizing power.
PROPERTIES
ABSORB-L is a scented biological white powder, specially formulated to absorb spills in accidents and emergency situations.
Specially designed for the treatment and control of body fluids (vomit, urine, blood, etc.) caused by accidents. It also absorbs spills of food, drinks and organic remains.
No customer reviews for the moment.